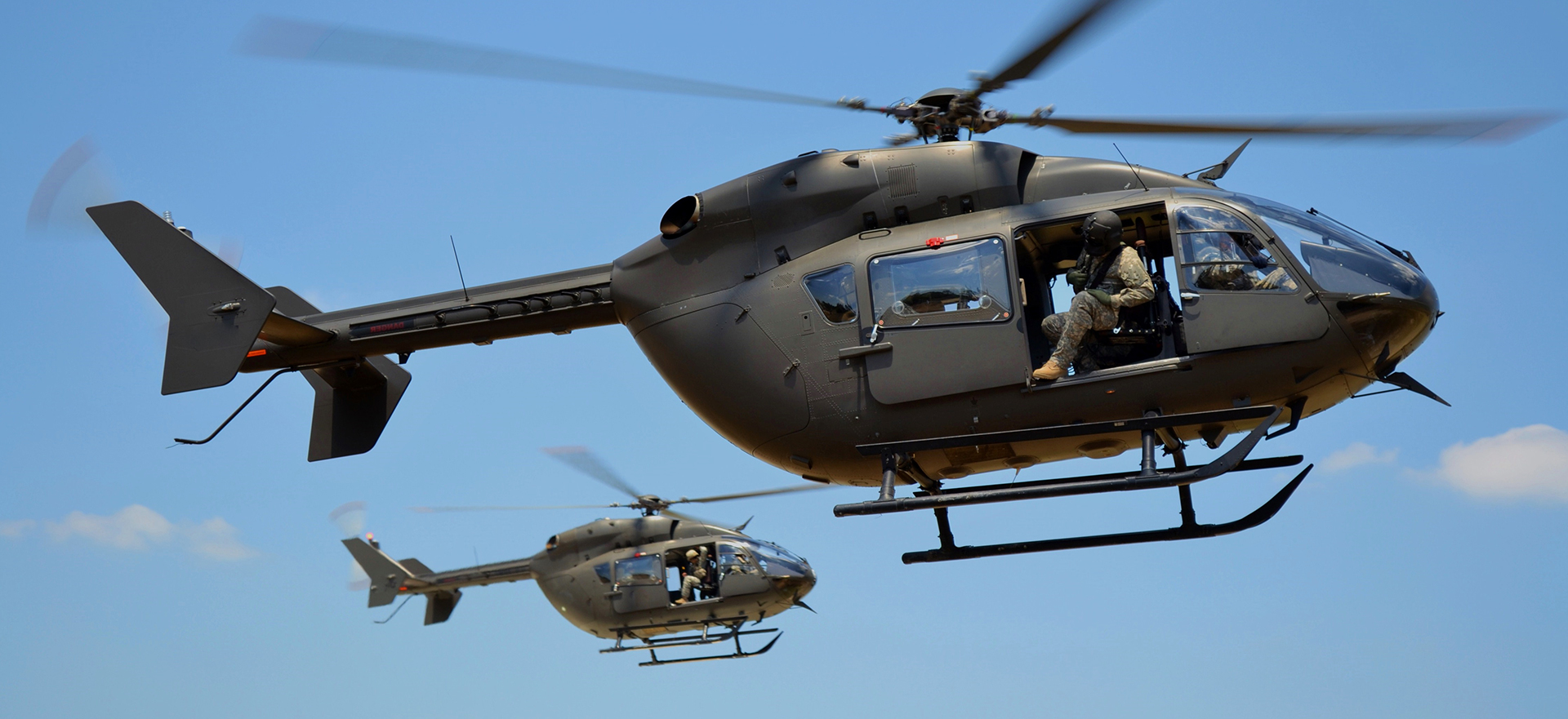 Technisonic is proud to support the ARNG Aviation across it's H-60 and CH-47 programs.  With the obsolescence lifecycle complete on the UH-72 civil support radio package,  Refit is due.   Since the original outfitting and fielding of the UH-72 in 2006, the world of Land Mobile Radio and P25 interoperability has changed significantly.   Equal to that change is today's Technisonic TDFM-9300 series radios.  Technisonic is proposing to Guard Aviation to consider the formidable strengths of a current, yet conformal radio suite for the UH-72.  By maintaining baseline conformity with H-60 and Ch-47 radio fleets,  while expanding capability now available and required to meet the LUH's mission.  Technisonic is now proposing an incredibility strong and agile and fully integrated radio solution for the UH-72,  The T6 TDFM-9300.
Module #1 VHF-FM (136-174Mhz)
Module #2 UHF-FM (380-520MHz)
Module # 3 VHF /800 (136-174 – 764-870MHz)
Module # 4 EMPTY
Module #5 T6 ALL- BAND Analog
*  Low Band FM (30-50MHz)
*  VOR Voice AM (108-117.9MHz)
*  Air-Band VHF-AM (118-136MHz)
*  Military UHF-AM (225-400MHZ)
Module #6    MCP Portable Connection
Module #7    MCP Portable Connection
Capabilities of the TDFM-9300 T6 Include:
The Motorola based All-Band P25 module can support analog/digital operation on the full FM Band spectrum (VHF, UHF, and 7/800) or can be configured to support operation on any mix of all three bands, two bands, or on any single band.
The T6 synthesized multi-band transceiver offers narrow band (12.5 kHz) wide band (25.0 kHz) and (8.33kHz) channel spacing as appropriate.  It maintains preset memory (200 channels) and can operate without restriction on any frequency in any band. Each channel is capable of storing a transmit frequency, a receive frequency, a separate CTCSS tone and/or a DPL/DCS code for each transmit and receive frequencies
FM radio modules can be:
Individually configured to include any P25 options such as trunking, encryption, OTAR, etc.
Optional P25 Phase 1 (FDMA) and Phase 2 (TDMA) Trunking is also available.
Optional Encryption protocols: AES, DES-OFB, DES-XL, DVP, and DVP-XL.
Standard ADP Encryption
Available Multiple Encryption Keys: 64 Common Key Reference (CKR) or 16 Physical Identifier Reference (PID) keys.
Each radio module can store 3000 channels and can be programmed to operate in digital or analog mode on a channel-by-channel basis.
Each radio module independently supports SCAN across its entire frequency spectrum.
Built-in audio switching allows multiple RF modules in combined or separate transceiver configurations.
All-Band Analog Module
T6 module offers a programmed channel capacity of up to 700 channels in memory,  ensuring your Mission's frequency needs can be met.
Full Sub—Audible tones (PL and DPL) capabilities are embedded into the T6 for both Low band and UHF -AM frequencies.
Includes full integration support of Advanced feature sets within the TDFM-9000 series radios, including Repeat / Relay and Simulcast.
Programmed via Technisonic's all new TDP Software.
Full Scan capabilities are included on the module.
Simple Front panel programming options including "Freq" (Simplex channels) "FPP" (Advanced Simplex and Duplex channels) programming.
Single Antenna installation ensures a minimal installation footprint on the airframe.
New User 1, User 2 operator configuration
Supports simulcast and cross-band repeat.
Dimensions: 4.5" (H), 5.75" (W) and 8.5" (D)
The analog band is easily operated and programmed via the front panel keypad. The P25 modules are programmed using Motorola APX-CPS programming software.
Critical Considerations,  Program Scope
In keeping to the defined conformal radio requirements and standards as put forward by the National Guard Bureau, AVS Office,    Airbus Helicopter and US Army have the opportunity to leverage the considerable advantages of such an offering across not just the UH-72 Lakota, but inclusive of all ARNG aircraft, assets,  personnel and disciplines.  These advantages encompass but not limited to:
Standardized radio equipment across all three ARNG fleet aircraft CH47 / H-60 / UH-72
Standardized asset inventories and spares across the entire ARNG system
Standardized installation components and spares
Standardized Training and operations across all fleets /pilots and crew
Standardized and established maintenance and training services
Standardized programming resources and operations.
Lowering  Cost and Increasing Mission Readiness of ARNG LUH Aircraft.
240 Traders Blvd
Mississauga ON Canada
L47 1W7
Dir. Federal / Military/ OEM Sales & Programs
Jim Huddock / (612) 231-9020